About me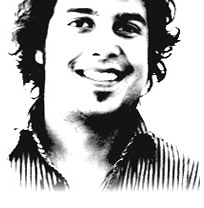 Hi, my name is Tiago Araújo and I am based in Sydney - Australia since Mar 08.
Graduated in advertising, I've been working as a professional designer for 4 years, with experience on web, print and identity projects. I'm passionate about internet and design in general. I'm currently acting as a freelancer and working for SSW - Sydney where I'm focusing on UX, usability and interaction design. Want to know more about my experience and skills? Download my CV.
Apart from design, I am a VW Beetle enthusiast, F1 and soccer (C.R.Flamengo) fan, like to eat well and listen to old songs, don't care about politics, and hate red nails :)
I also have a list of the best movies ever made, click here to see it.
What I do
Web design
Custom web 2.0 Photoshop mock-ups
Standards-compliant CSS/XHTML websites
Flash animation
WordPress implementation
SEO - Search Engine Optimization
Identity and print design
Logos
Corporate identity
Business Cards & Stationery
Brochures
Advertising
Inspiration, friends & more
About this website
Why Tartora? Well, this is a (really) long story. Maybe I tell later.
This site uses as much as possible a semantic and accessible code, it was built to work perfectly fine on all browsers.
I highly recommend Mozilla Firefox, Safari, Google Chrome or Opera.
Developed, designed and coded by Tiago Araújo, using valid HTML and CSS.
Hosted by (mp) MediaTemple
go to top